Erik van Loon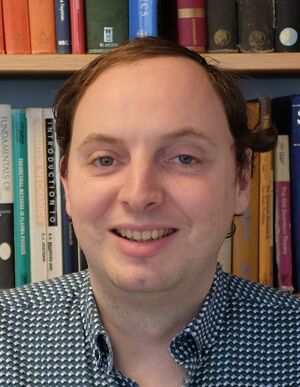 Contact details
E-mail
erik.van_loon AT teorfys.lu.se
Office

B310
Division of Mathematical Physics
Professorsgatan 1
Lund

Post

Division of Mathematical Physics
Department of Physics
Lund University
Box 118
SE - 221 00 Lund
Sweden
About me
I have been working as an Associate Senior University Lecturer at Lund University since March 2021. My main research interest is the study of strongly correlated electrons and their collective excitations. This line of research is supported by the Crafoord Foundation, the Krapperup foundation and the Swedish Research Council (Vetenskapsrådet). I am also involved in teaching at the bachelor and master/PhD level. More information about my teaching, research and publications can be found below.
Previously, I was working with Professor Wehling at the University of Bremen (2018-2021). I did my PhD with Professor Katsnelson at Radboud University (2013-2018). Radboud University is also where I studied Physics, with a research stay with Professor Alexander Lichtenstein in Hamburg for my MSc. thesis.
MSc. and BSc. Thesis projects
Thesis projects on topics in condensed matter theory are available, with a focus on the quantum mechanics of correlated systems. Most projects will involve a combination of theoretical and computational studies. For MSc. thesis project, prior knowledge of advanced quantum mechanics and solid state physics are beneficial. If you are interested in doing a thesis project with me, please contact me via e-mail (see above) so that we can find a suitable project for you.
I am currently responsible for the courses FYSB23 and FYST68 (formerly FYST25). More information about the courses can be found on their respective Canvas pages. Please contact me by e-mail if you encounter problems in the registration process or if you have questions about the course.
Basic Statistical Physics and Quantum Statistics (FYSB 23, VT1)
Solid State Theory (FYST68/EXTP90/NAFY017, VT2)
My main interest is the study of collective, many-particle excitations in strongly correlated electron systems. The Coulomb interaction between electrons means that these particles do not move independently. In fact, the electronic motion contains both spatial and temporal correlations. Dealing with this involves advanced quantum many-bod techniques, including the so-called Dynamical Mean-Field Theory (DMFT). An illustrative example of the role of correlations is the metal-insulator transition: sufficiently strong electronic repulsion can create a traffic jam of electrons, immobilizing them completely, making the electrical conductivity zero.
My work has focused on the collective properties of these systems: compressibility, magnetic susceptibility, dielectric function, charge-density waves, etc. It turns out that spatial correlations are important for these collective properties. I have been working on methods called diagrammatic extensions of DMFT to address this deficiency. Several diagrammatic extensions of DMFT exist, my work has focussed on two of them which are called the dual fermion and dual boson approach. During my PhD, I implemented the dual boson approach for single-orbital systems and used it to study plasmons and charge-density waves, among other things. I currently maintain an open source code for multi-orbital dual fermion calculations, which can be found here: github.com/egcpvanloon/dualfermion
In the spring of 2022, we had an online workshop on two-particle correlations, more information can be found on the dedicated web page.